Pricing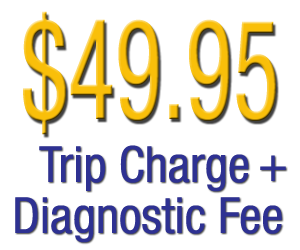 At Appliance Repair Expert, we value transparency. That's why our pricing information is clear and simple. Our service fee is $49.95, which includes the trip charge and diagnostic fee.
We price repairs by the job, rather than by the hour, meaning you'll never be charged extra if repairs take longer than expected. We'll do our best to provide ballpark estimates for repairs prior to visits, but we request your understanding that this is not always possible as there can be multiple underlying issues for most major appliance problems. Overall, as a no-frills appliance repair service, our pricing tends to be less than that of our competitors.
We never charge extra for evening / weekend repairs.
Pricing Details
After hours / holiday / emergency pricing: our fee for emergency / holiday / after hours service is $30, to be applied on top of our standard service call fee. This includes any appointments scheduled on Sunday or between the hours of 8pm – 8am. Appliance Repair Expert observes the following national holidays: New Year's Eve, New Year's Day, Memorial Day, Labor Day, Thanksgiving, Christmas Eve and Christmas Day.
Remote locations: if your location is outside of our service area, your service call may be subject to a higher trip charge. We will advise you of any trip charge fees before you commit to service.
Parking: if parking is tricky at your location, please let us know in advance! We'll cover any parking fees, up to $10.
Have any questions about our pricing? Give us a call at (916) 277-0077 or e-mail us!